ARMO Skelton Viewer-Analysis

Movement analysis software that visualizes the joint moment in a computer graphic
ARMO Skelton Viewer-Analysis (formerly Moment Visual) is movement analysis software that simulates how much power is generated in a joint from the movement of the human body. Previously, the body's movement was illustrated only through numeric figures and graphs; with our software, such movement is visualized in 3D computer graphic animation in order to understand the joint moment against the movement. The system may be utilized for analysis of movement in research and education.

Motion image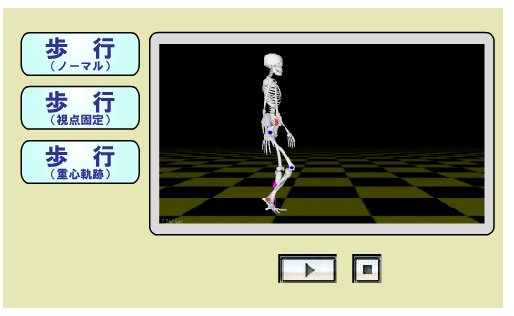 There is a video sample of the movement image on our Japanese site.
Three display modes exchangeable with Start/Stop button.
The button on the display from top to bottom
Walk (normal)
Walk (fixed view point)
Walk (trajectory of gravity center)
Function
Animation display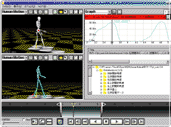 The result of motion analysis is displayed through the use of a stick figure and skeletal model.
* The movement of the backbone, pronation/supination of forearm and shoulder blades will not be displayed in the 3D graphic of skeletal model
Animation display (left)
Graph display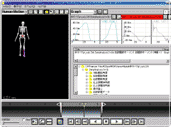 The joint angle, joint position, ground reaction force, joint moment and joint power necessary in biomechanics are displayed in graphs with simple drag and drop.
Graph display (left)
Joint moment calculation in Standard version only)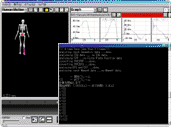 The movement of the test subject (rehab patient etc) is displayed in 3D animation using the musculoskeletal system model. Simultaneously calculated muscle moment, estimated muscle strength and calorie consumption are visualized using color changes in the muscle, directly displaying how much strength of the muscle is exerted in what point of the time of the movement.
Display of joint moment calculation (left)
Limitation
The system is composed of algorithm(s) based on a published paper on normal walking; verifications for other movements have not been sufficiently performed. 3D coordinate data (Coordinating 3D data) obtained in motion capture will be necessary for use of ARMO Skeleton Viewer Analysis. Furthermore, a force place is required for lower limb joint moment and muscle strength calculation. Please be reminded these measuring systems need to be arranged separately.
Availability of two versions
ARMO Skeleton Viewer
The result of joint moment calculated with "DIFFGAIT", the library software of the Clinical Gait Analysis Forum of Japan is visually displayed.
ARMO Skeleton Analysis
The joint moment is calculated with ARMO model (DIFF marker set) and the result is visually displayed. The calculation of joint moment and display are packaged in a set.
*Note - ARMO Skeleton View Analysis does not support muscle display.
Detail information
[Note] This software was developed as an IT development support project of FY2001 and IT development continued project of FY2002 of the independent governmental entity, IPA - Information Technology Promotion Agency of Japan.
ARMO
Skeleton Analysis
Skeleton Viewer
Visual Display
Graph display
YES
YES
YES
Bone polygon
YES
YES
YES
Muscle polygon
YES
NO
NO
Visual display of muscle tension
YES
NO
NO
Visual display of joint moment (joint torque)
NO
YES
YES
Fixed view point
NO
YES
YES
Calculation
Joint moment calculation
(Joint torque calculation)
YES
YES
NO
Muscle strength estimate calculation
YES
NO
NO
Input Data Format
DIFF
YES
YES
YES
C3D data
YES
Conversion to DIFF with attached software
YES
Conversion to DIFF with attached software
YES
Conversion to DIFF with attached software
Output Data Format
Graph data
YES
CSV,TXT
YES
CSV,TXT
YES
CSV,TXT
Range specified output
NO
YES
YES
3D CG animation output
YES
AVI,BMP
YES
AVI,BMP
YES
AVI,BMP
Price
Price (excl tax)
Market
¥500,000
¥300,000
Visual Display
Installation to other PC
NO
YES
Requiring CD-ROM to start
YES
Requiring CD-ROM to start